Yoga is about finding a deeper connection with yourself, and learning to live in the present moment. I'll help you leave your busy life behind, and fully immerse yourself in the moment that is now. You get out of your head, and into your body!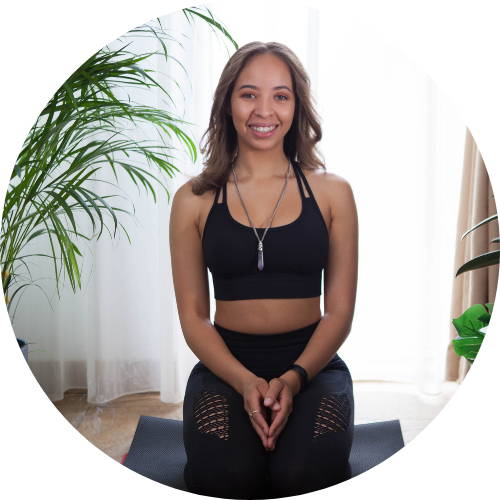 ---
I am the founder of I Am Yoga Live, and it is my mission to make yoga accessible to people from all over the world. I believe that it is so important to find a sense of inner peace, and yoga is a powerful tool to do that. By slowing down, connecting with the breathe, and tuning inwards, you are able to find true happiness.
Yoga has taught me how to pay attention to my inner world: my body, my breathe, my energy. We spend so much of our lives on autopilot, that we rarely even notice it. When you finally take the time to stop, breathe, and notice the world around you, you start to appreciate life on a whole new level. You start to appreciate the smallest things. You start to laugh at your mistakes, and forgive yourself easily. You start to show gratitude and love for the people around you.
Practicing yoga has completely changed my life, and I am so excited to share that gift with others, and build a community of warm hearted, loving people from all around the world. Thank you for joining our community, we are so excited to have you here.
Get out your notebook and get ready to manifest a life beyond your wildest dreams. In this class, we will dig deep and discover your true desires. This is a non judgement zone where you can be completely honest about what you want in your life. No dream is too big, no desire is out of reach.
We will start of the class with gratitude and intention setting. If your INTENTION is powerful, your action will be powerful. If your action is powerful, your results will be powerful!
We will do some journaling, visualization, and we will end the class with a guided meditation. By the end of the class you will feel inspired, and abundant.
Start off your day on the right side of the bed! Skip the morning social media scroll and start your day with intention. Morning Flow
is a very mellow class structured around slower movements combined with passive stretches that will gentle wake you up and get you energized and ready to start your day.
We begin the class with intention setting and gratitude, and wake our body up with movement to get us ready for the day. You will leave this class feeling energized and rejuvenated! This class is suitable for all levels.
No props are needed for this class.
Bikini Body Bootcamp is all about getting your body fit, strong, and toned! In this interval training class we will be focusing on the core, legs, and glutes!
We will start with a nice warm up, and move to our exercises where we will do 3 rounds of 6 workouts for 45 seconds each with a 15 second break in between!
This class is suitable for men and women, everyone should look good in a bikini right ;) No weights or equipment necessary!
This absolutely core class will help you sculpt and build strength and will be a blend of standing and floor exercises. You'll be learning how to properly activate your core muscles which help take all your trainings to the next level.
We'll be doing lots of core movements like Russian twists, leg lifts, planks, and floor bridges. The class is low impact and great for all fitness levels, only a mat is needed.
Vinyasa yoga is structured around a flow that varies per class where you move from one pose directly and smoothly into the next pose and often the class is structured around a peak pose(s).
Each movement aligns with an inhale or exhale like your breath is leading your body into different poses; breath first and body second. Very good for endurance, increases stamina, stability, flexibility, strength training, as well as combats stress and anxiety.
This class is slow paced although challenging as it offers detailed hip mobility exercises to increase range of motion & strength as well as efficient hamstrings openers. Understand how to use your breath to deepen opening but also the difference between passive & active.
This class offers hip mobility exercises to keep this powerful joint loose and mobile as well as efficient hamstrings openers. We will provide you with key elements for a safe home practice. All levels welcome.