Carolyn loves teaching traditional hatha yoga, vinyasa flow, and yin yoga. She has taught classes of up to 60 people, but she also loves private classes.
She enjoys teaching to beginners, older people, athletes, and dancers.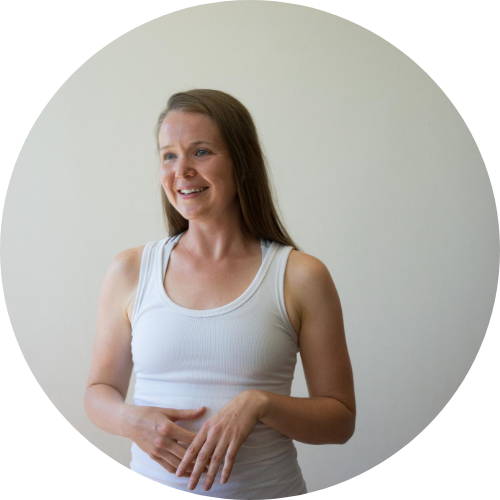 ---
Carolyn took her first yoga class when she was in university in 2007. She has been a dancer all her life and was looking for a way to stay fit in school. After completing her business degree and working for a few years, she decided to follow her passion of yoga.
She completed her first 200 hour Hatha Yoga teacher training course at Ayur-Yoga Eco-Ashram in India in June 2014. In 2016, the same ashram asked her to come back to work.
She was immersed in the yogic lifestyle for about one year, and ended the year with completing her 500 hour advanced yoga teacher training course. Since then, she has also completed a Yoga and Ayurveda course and a Yin Yoga course.

Lunch-break Yoga class is aimed at people who spend hours every day sitting in front of the computer. It is a gentle class and also suitable for beginners. We focus on moving the joints of the upper body (neck, shoulders, wrists), moving the spine in all directions (twisting, forward bends, back bends), and doing stretches for the hips and hamstrings.
The class will begin with a short meditation to help calm the mind in the middle of a busy day. The class will end with a relaxation and an opportunity to set goals or intentions for the rest of the working day. The short 45 minute length makes it perfect to fit into your lunch break.
For the first 40 minutes of this class, we will move through vinyasa flow sequences. There will be some physical challenges. This part of the class is meant to build strength, lose weight, and tone muscles.

In the second part of the class, we will do deep stretches held for a longer time. Specifically, we will stretch the same parts of the body that were strengthened at the beginning. This part of the class is meant to stretch tight parts of the body and leave you feeling more relaxed.

This class will begin with a short meditation and some breathing exercises. Then we will move to asanas, or traditional Hatha yoga poses, which will have moderately long holds.
This class is great for beginners, or people who want to move consciously to make sure that they are doing the pose properly. It is good for overall health and fitness. It is not too strenuous, but still good for toning the body and losing weight.
While props are not necessary, it is recommended to have 2 blocks and a strap, especially if you are not very flexible. (A belt can be used in the place of a strap, and stacked books or something similar can be used instead of blocks)
In this class we will focus on the basics of yoga. If you have never tried a yoga class before, this might be for you. Are you worried about a full hour of yoga? This class is only 45 minutes – much more accessible for beginners, and it will go by quickly! This class is for people who think they are not flexible – you will become more flexible!

We will move through all parts of the body, gently stretching and strengthening them. If you are not very active, this would be a great way to start brining more activity in your life. After just a few weeks in this class, you will notice that you are becoming more flexible, stronger, and more relaxed. These classes are also suitable for elderly people or people who are recovering from injuries (please inform the teacher in advance if you have injuries).