Through my own yoga journey I've come to appreciate yoga beyond the asana practice and more as a lifestyle rich in ancient philosophy and spirituality that is about tapping into the heart space where transformation and growth occur because to be a good teacher you also have to be a good student.
I am all about yoga being enjoyable for everyone where the aim is to walk away feeling better and more in tune with your body, mind, breath and soul after each class while having fun exploring new ways of being and listening all the while healing.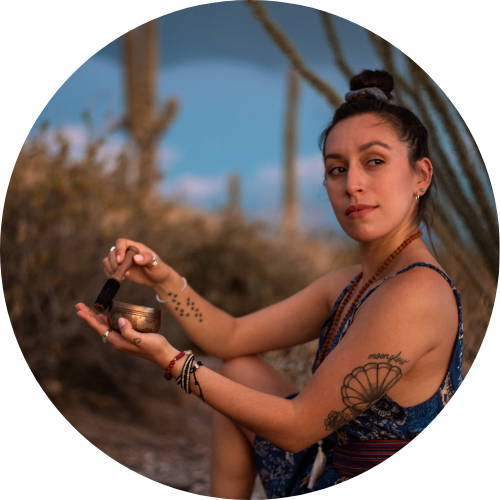 ---
Yoga has transformed from a strictly physical practice into a spiritual lifestyle that manifests into everything I do providing me with joy and happiness; from giving me a deeper sense of awareness to a stronger connection between breath, mind, body, and spirit soul.
I love yoga because it is always accessible and provides insight into the backbone of what it means to be present and grounded with our breath and understanding that what is most important is finding peace in the now.
My approach to yoga is about being playful, while learning and growing. I encourage kindness and compassion for where one is now, not worrying about the past or future, but soaking in and savoring the present moment through gentle humor, chanting, philosophy, pranayama breathwork and asana practice with the reminder that I am a guide, but the real teacher is your breath and your body. We're all experiencing different dances with the divine, thus each of our practices will look different, but similar.


Hatha yoga is a combination of ha=sun and tha=moon energies through slower sometimes moderate movements, pranayama and chanting.
Poses are mindfully held for 3 to 5 breaths to allow the body to work past that feeling of needing to quickly move out of something that is uncomfortable, which is where the magic happens physically and mentally.
Vinyasa yoga is structured around a flow that varies per class where you move from one pose directly and smoothly into the next pose and often the class is structured around a peak pose(s).
Each movement aligns with an inhale or exhale like your breath is leading your body into different poses; breath first and body second. Very good for endurance, increases stamina, stability, flexibility, strength training, as well as combats stress and anxiety.
Bhakti yoga asana classes are my favorite that are often a fusion of dynamic Hatha and Vinyasa flows sprinkled with ancient Indian philosophy and often include sanskrit terms as well as chanting together. Bhakti yoga is about devotion to a higher divine power that gives a deeper more heartfelt meaning, experience and motivation for moving meditation (yoga asana) and breath work.
This class aims to bring calmness, build balance, evoke more loving kindness and to tap into a different part of the mind that is almost childlike with curiosity and playfulness.
Restorative Yin Yoga is a very mellow class structured around slower movements combined with passive stretches that promote an over all relaxed state where muscles are encouraged to soften. The class will consist of a small number of poses often using bolsters or pillows that way your body can move away from tension. Poses are often held for long periods of time, sometimes 10 mins.
Focus is on relaxation, ease and release by giving your body and mind a break moving into rest and digest mode massaging the fascia f the body and bringing about a deep inner awareness of oneself through breath and presence.